DIY Pretend Play Prompt Jar to Get Imaginations Going
This shop has been compensated by Collective Bias, Inc. and its advertiser. All opinions are mine alone. #PlayWithPlaymobil #CollectiveBias
As a homeschooling mom, who was once a public school educator, I know that pretend play is a huge part of a child's development – physically, cognitively, socially and more! Since I am my children's only teacher it falls to me to be sure that plenty of brain building play happens during their day.
One great way to stretch children's imaginations is to add a play prompt jar to their toy sets. This is a great way to help children think of new creative story lines to act out with their toys. PLAYMOBIL toys are always sure to get my kids playing creatively, especially with the addition of a prompt jar.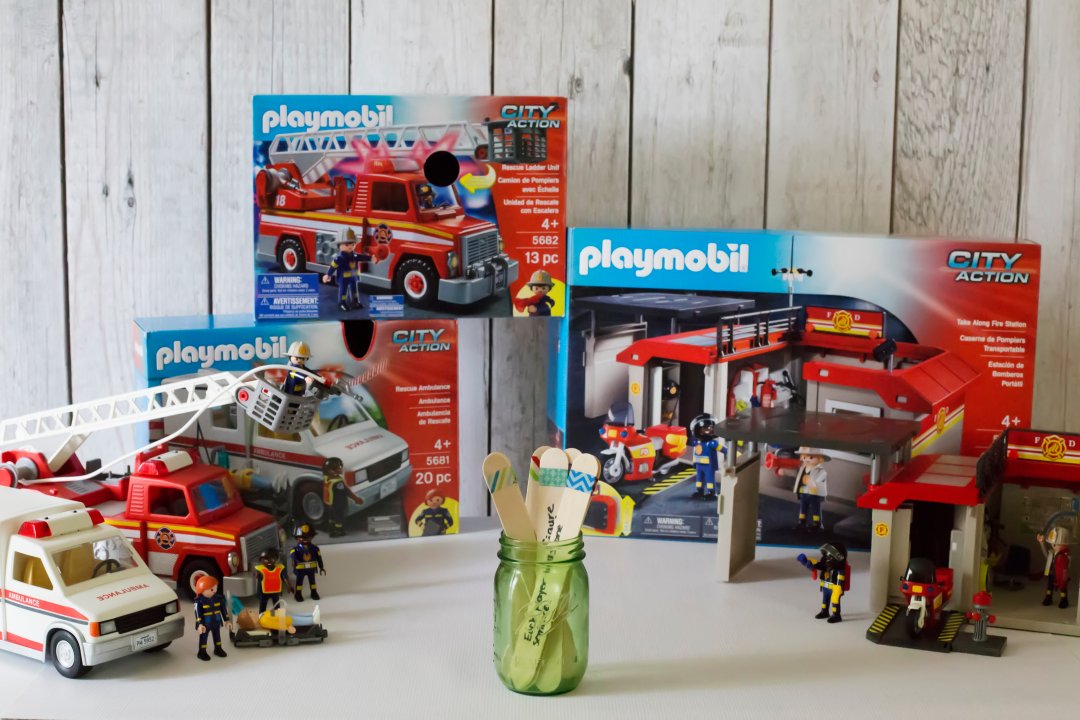 Here's how to to make an easy pretend play jar to go with your child's favorite PLAYMOBIL toy sets…
DIY Pretend Play Prompt Jar
Supplies:
jar
washi tape, paint, or other decorating supplies
craft sticks
permanent marker
Directions:
Decorate the end of your craft sticks. Washi tape is a quick easy way to add visual interest. You could also use paint or permanent markers to decorate them.
Use a permanent marker to write creative play prompts on the craft sticks. 
Place all the sticks in the jar and start playing! 
Have one person draw a stick and read the prompt aloud. You can set a time to keep your children's imaginations moving, or simply keep playing until the kids ask to try a new prompt from the jar.
Here are several creative pretend play prompts to get you started. Add more based on your child's interests and the themes of your family's PLAYMOBIL sets. There are endless possibilities for imaginative play with PLAYMOBIL!
Switch PLAYMOBIL figures with the person on your right. (also make a stick for left)
Place all the PLAYMOBIL figures in a bag and each person choose one with their eyes closed
Choose one person to narrate a story while the others act it out with figures
Each person tell one line of the story, going around the circle as you act it out
Cooperatively act out a story without talking
Switch the figures from one PLAYMOBIL set to another. Act out what happens! (I love this for mixing the realistic and fantastical sets of PLAYMOBIL figures. What would a firefighter do if he found himself suddenly in a world filled with dinosaurs?)
The high quality and attention to detail in PLAYMOBIL toys ensures that the sets will last through my kids vigorous play and will interest even older children.
In fact,  found my 13 year old using our new PLAYMOBIL ambulance with her favorite PLAYMOBIL pony set that she's had for many years!
I love shopping at Walmart! Busy moms really need to be able to buy everything I need in ONE store, right!? Who has time to run from store to store? Thankfully Walmart has everything I need in one location!
In preparation for a new homeschool year, I took my 4 and 7 year olds with me on our weekly shopping trip so they could help me pick out a few new PLAYMOBIL toys for brain building imaginative play. They chose the PLAYMOBIL Take Along Fire Station along with an ambulance and a fire truck. 
Looking for even more great ways to get your kids imaginations going with PLAYMOBIL toys? Don't miss all the great ideas right here.