Horizons Preschool Curriculum Set Review
I began homeschooling my oldest daughter her preschool year, in 2007. It's hard to believe I will begin teaching preschool for the 5th time this year with 4-year-old Emily! I've never bought a preschool curriculum for my little ones, but as I add more and more children to my teaching line up, finding the time to put together a really great preschool year becomes more difficult. So the opportunity to review the Horizons Preschool Curriculum Set from Alpha Omega Publications was very welcome this summer! This set includes: 2 Teachers Manuals, 2 Student Workbooks, a resource packet, and an audio cd.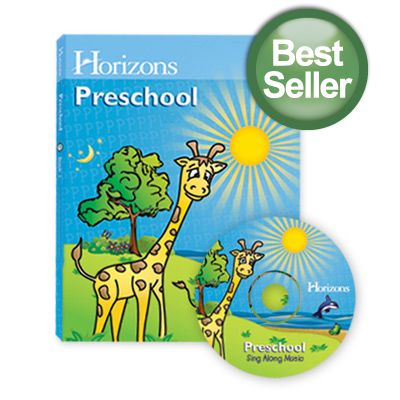 I always love how eager my 4-year-olds are to join their big siblings at the school table. So excited to finally begin 'real' school.
First let me tell you about the teacher's manual, or manuals rather. There are 2 books, one for each half of the year. Looking through the manuals, the first thing I noticed about this preschool curriculum is that there is so much there! Even if I taught preschool all day we still wouldn't get all the suggested activities done! But, the manual stresses that you are not expected to complete all the activities suggested- you are meant to pick and choose. I love that Alpha Omega Publications realizes that some children enjoy more academics while others need much more time spent on fine motor skills, and other activities. With this curriculum you are free to choose the activities best suited for your child!
It is meant to be used in a classroom or homeschool setting. The curriculum has 5 days of lessons per week- but understanding that many preschoolers (both at home an in the school setting) don't do school 5 days a week, the curriculum introduces new material on Days 1, 3, and 5. While days 2 and 4 are spent on review and expanding the new concepts. This is something I really appreciate! I hate feeling the need to cram everything in from a 5 day a week curriculum, when, as a family we choose a 4 day a week schedule (while my preschoolers often complete only 3 days a week.)
The year (180 lessons total) focuses on the 7 days of creation- from Bible, to science, to language arts, to math, and everything else, the lessons revolve around the creation theme so your day feels connected. One subject and activity flowing seamlessly into the next.
Language arts begins with identifying letters (as well as shapes and colors) and moves all the way to simple blending by the end of the year. While, math begins with identifying numerals and counting to simple addition and subtraction.
Next, the resource packet. This thing is massive! My laminator is going to get quite the workout this year! It includes so many awesome teaching aids such as, memory verse cards, clock cards, and flashcards (letters, numbers, shapes, colors, and more). My daughter really loves sifting through the cards and identifying everything she is learning about.
And, of course the part my daughter is most excited about- the Student workbooks. When opening my box, I couldn't believe how big those workbooks are! There are a lot of worksheet pages- and there are two of them!
Then I was even more surprised when I realized the meat of this curriculum isn't in the worksheets at all, but in the teacher's manuals through Bible Stories, social studies, science, games and more. The workbooks are full color, and contain a good mix of activites, from fine motor practice, to language arts, color/shape recognition and math. 
Overall, I find this preschool curriculum to be pretty amazing. It definitely takes some teacher prep, mostly just in the reading of each lesson and determining what to do with your child. That's definitely the hardest part-narrowing down what to do each day with so many great activities to choose from! I'm really looking forward to the rest of Emily's preschool year using this curriculum!
Want to read more reviews about Horizons Preschool Curriculum Set and many other great homeschooling products from Alpha Omega Publications? Click below:

Connect with Alpha Omega Publications via Facebook, Twitter, Google +, Pinterest and Instagram