The Basics of Critical Thinking by The Critical Thinking Co. is designed to teach critical thinking to upper elementary and middle school students. I decided to use this book with my 5th grader, who's had no logic instruction thus far.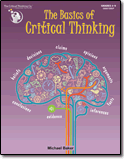 This book has quickly become a favorite. Rebekah dislikes being 'taught', she much prefers to teach herself- whether through reading a book, completing a worksheet, figuring things out through trail & error, or watching a video. She is happiest when she doesn't need me at all for a subject.
The Basics of Critical Thinking is written straight to the student. No teacher guide is needed, and after the first few lessons she hasn't needed my help at all. The book does a great job of explaining each new concept and then providing examples and activities to work through. The examples are fun and interesting and she enjoys figuring out the mystery. Her favorite activities so far are the finding evidence activities. When presented with 4 pictures, she reads several facts, and then must determine which of the 4 pictures is the correct one. Since beginning this book she loves to evaluate the arguments in books, on television, and even those presented by her siblings!
This book teaches the basis of critical thinking by defining critical thinking and teaching students what that means. It strives to teach children how to evaluate claims and arguments. The majority of the book focus on how to evaluate claims and arguments in real life, though it does teach the names of argument forms and fallacies toward the end of the book. Rebekah hasn't yet made it to that part of the book, but it looks to be a really great understandable introduction to important logic vocabulary. I believe completing this workbook will make beginning more formal logic in middle school less daunting for her.
If you'd like to read more reviews about The Basics of Critical Thinking and other great products from The Critical Thinking Co. from the Schoolhouse Review Crew click below.

Connect with The Critical Thinking Co. on Facebook, Google+, Twitter, and Pinterest